Detroit Athletic Club

Founded in 1887, the DAC continues to play a major role in the history of Detroit and Michigan. The first clubhouse on Woodward Avenue was replaced in 1915 with great fanfare by a magnificent new clubhouse on Madison Avenue. Members today celebrate more than a century of leadership.
Chef Kevin Brenan, CEC, AAC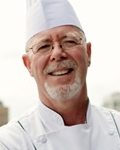 An executive chef for the past 34 years, Kevin M. Brennan CEC / AAC, has been working in the private club field sharing his passion for culinary arts and the hospitality business.
A graduate of the Schoolcraft College culinary program in 1976, Brennan is a certified Executive Chef with the American Culinary Federation (ACF) and has been inducted into the Academy of Chefs, American Culinary Federation. He has also studied with the Culinary Institute of America, Michigan State University and Oakland Community College. Brennan began his career in 1979 as a Sous Chef at the Recess Club, later becoming Executive Chef (in 1982). He then joined the Orchard Lake Country Club staff in 1987 as Executive Chef until he became the DAC's Executive Chef in 1994.
At the DAC, Brennan's team of 70 culinary and 32 stewarding staff members prepare 11 million in food and beverage sales annually.
A member of the ACF's Michigan Chefs de Cuisine since 1984, Brennan has served on the Michigan Chefs board as President, Vice President and Treasurer. He has also been chairperson of the Apprenticeship Committee. Competing in ACF certified culinary salons, Brennan has won gold and silver medals with a Judges Special award. He was named Chef of the Year in 1989 and 1999 by the ACF. In 2013 he was awarded the ACF Central Region Dr. L.J. Minor Chef Professionalism award. Kevin also received a Presidential medallion from ACF President Michael Ty that same year. In 2016 Kevin and his team were invited to cook at the prestigious James Beard House, he was one of three Detroit Chefs to be asked to go to New York that year.
While at the DAC, Brennan and his team have received three "Achievement of Excellence Award" from the ACF. The DAC hosted the 2012 Academy of Chefs dinner, where they served 120 chefs from throughout the country. Brennan is a founding member of the Michigan Chefs Against Hunger group and has served on several national culinary commissions.
Location
241 Madison Street
Detroit, MI 48226
Phone: (313) 963-9200